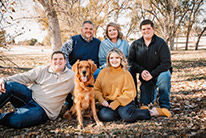 Our commitment to quality is backed up in every mouth-watering steak, every south of the border specialty, and every dish of bread pudding that comes out of our kitchen.
It seems only fitting that Julie and Milton Cooke should first meet at a BBQ place-in 1993 at his Uncle Bill Roden's place, Big Bubba's Famous BBQ in Cleburne, Texas. Even though Big Bubba's restaurant is no longer, the Cooke's have continued with some of the families recipes.
Whether its mouthwatering steaks cooked over an open mesquite burning fire or slow cooked juicy barbecue Cattle Exchange, is the place for you.
They have a menu that consists of steaks, bar-b-q, burgers, salads and Mexican food made fresh daily in the Cooke's kitchen. With clientele as diverse as their menu, the Cookes have been sighted serving mouth-watering entrees in locations ranging from oilfields to political fundraisers from Texas west to California.
The Cookes want you to feel like their family guests when eating with them, so please let them know what you think of the restaurant and staff. Your comments are well received and taken seriously, just as if you were a guest in their home.